Discover the "Trap Star" disposable vape by Modus, a masterful addition to their dynamic range. Inspired by the success of their Knockout and Uppercut blends, Modus now presents the Tap Out Blend, redefining vaping experience.

Each puff from this device delivers a burst of cannabis-derived terpenes, ensuring a powerful and euphoric sensation. The intricate mix of Delta-11 THC, THC-X, Delta-8, Liquid Diamonds, THC-B, and CDT ensures potency unlike any other.

If you're looking for a unique vaping journey that keeps you coming back for more, it's time to tap into the allure of Trap Star.

Sativa: Delta 11 THC | THC-X | Delta 8 | Liquid Diamonds | THC-B | CDT

Modus Tap Out Blend 3g Features:

| | |
| --- | --- |
|  Capacity: | 3G (3000mg) |
| Battery Capacity: | Integrated Rechargeable |
| Cannabinoid: | Delta 11 THC | THC-X | Delta 8 | Liquid Diamonds | THC-B | CDT |
| Heating Element: | Ceramic Coil |
| Firing: | Draw-Activation |
| Battery Indicator: | LED Life Indicator Light |
| Charging: | USB-C (Cable not included) |

Rechargeable:

The device has a built-in USB-C port for fast charging.

Modus Tap Out Disposable Strains

Certificate of Analysis (COA)
We will ship your order within 1-2 business days. You should receive your Delta Cloudz within 3-7 business days after your order is processed, depending on your location. We only ship within the Continental United States.
We offer returns or exchanges within seven days of receiving your order as long as the product is unused. Click here to request a return or exchange.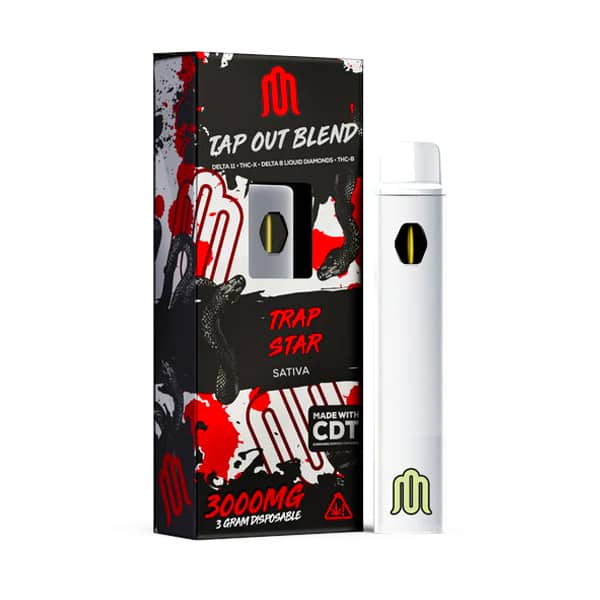 Trap Star - Modus Tap Out Blend Disposable | 3g