Embark on a cosmic journey with Sour Kush, where you'll feel like an astronaut navigating the lunar landscape. Blending OG Kush and Sour Diesel, this sativa delivers that extra kick of energy you crave. It's your ticket to a cheerful and uplifted mood, empowering you to tackle the day with a can-do spirit. Say goodbye to couch-lock – Sour Kush offers a balanced high that's as versatile as it gets. So gear up to conquer not just space, but also your to-do list, all thanks to the wonders of Sour Kush.


Sativa: 11-Hydroxy-THC | THC-H | THC-P

Looper Live Resin Vape Cartridge 2G Features:

| | |
| --- | --- |
|  Capacity: | 2G (2000mg) |
| Cannabinoid: | 11-Hydroxy-THC + THC-H + THC-P |
| Concentrate: | Live Resin |
| Heating Element: | Ceramic CCELL |
| Connection: | Threaded 510 |

 

Certificate of Analysis (COA)

Sour Kush - Looper Melted Series Cart

Warning: Consuming this product can expose you to chemicals including bata-myrcene, which is known to the state of California to cause cancer and D9-Trtrahhydrocannabinol, which is known to the State of California to cause birth defects or other reproductive harm.
We will ship your order within 1-2 business days. You should receive your Delta Cloudz within 3-7 business days after your order is processed, depending on your location. We only ship within the Continental United States.
We offer returns or exchanges within seven days of receiving your order as long as the product is unused. Click here to request a return or exchange.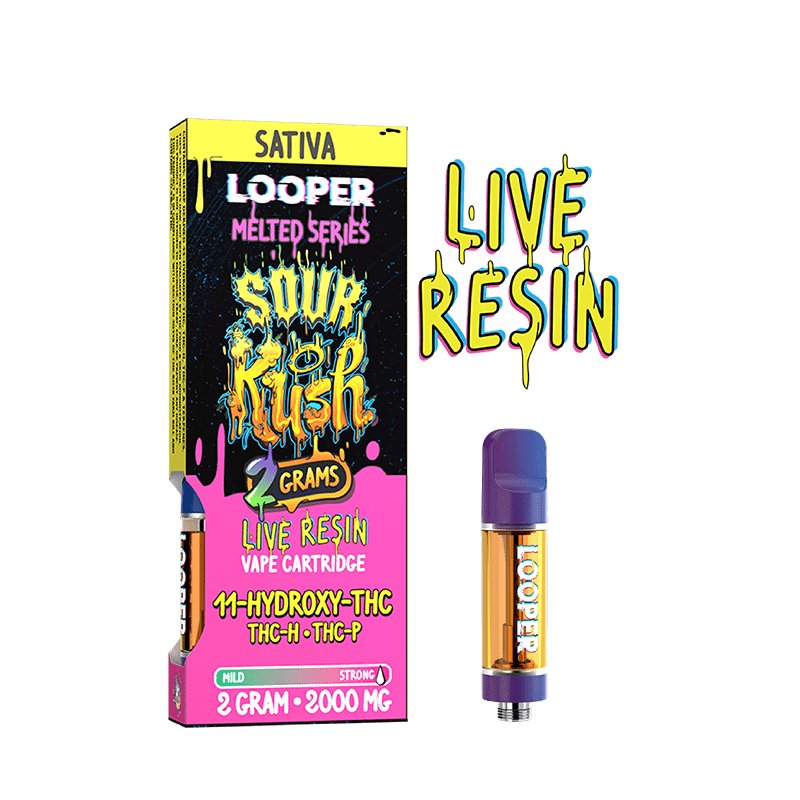 Sour Kush - Looper Melted Series Cart