Rainbow, also known as Rainbow Kush, is the result of blending the well-known Blueberry and Dancehall strains. It's a fast-growing plant that works great for the sea of green growing method, preferred by many growers. The name "Rainbow" comes from the vibrant colors it displays during flowering, adding a beautiful touch. When you experience its high, you'll find it pleasantly uplifting, enhancing your creativity and offering pain relief without making you feel weighed down. Its flavor is a delightful mix of spicy and sweet, with fruity undertones that some compare to Starburst fruit chews.


Hybrid: THC-P | HHC | HHC-O

Looper Melted Series Live Resin Vape Cartridge 2G Features:

| | |
| --- | --- |
|  Capacity: | 2G (2000mg) |
| Cannabinoid: | THC-P | HHC | HHC-O |
| Concentrate: | Live Resin |
| Heating Element: | Ceramic CCELL |
| Connection: | Threaded 510 |

 

Certificate of Analysis (COA)

Rainbowz - Looper Melted Series Cart

Warning: Consuming this product can expose you to chemicals including bata-myrcene, which is known to the state of California to cause cancer and D9-Trtrahhydrocannabinol, which is known to the State of California to cause birth defects or other reproductive harm.
We will ship your order within 1-2 business days. You should receive your Delta Cloudz within 3-7 business days after your order is processed, depending on your location. We only ship within the Continental United States.
We offer returns or exchanges within seven days of receiving your order as long as the product is unused. Click here to request a return or exchange.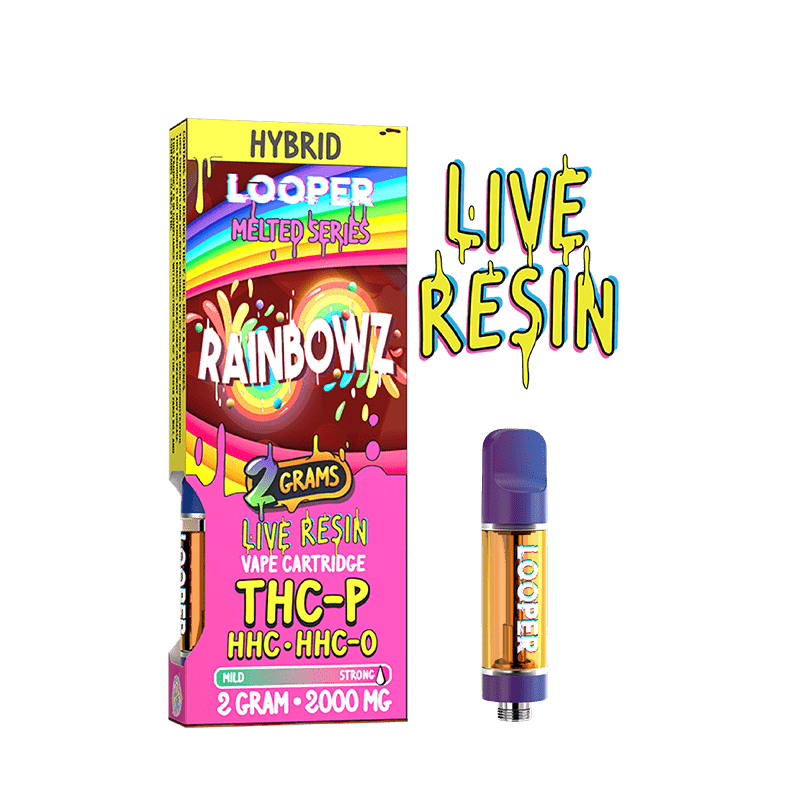 Rainbowz - Looper Melted Series Cart