Get ready to meet Papaya Punch, an extraordinary hybrid that's like a delicious fusion of tropical vibes and irresistible allure. It's the marriage of the exotic Papaya and the alluring Purple Punch, creating a blend that's unlike anything you've experienced. As you take a toke, your senses will be treated to a symphony of tropical and fruity notes, almost like sipping on a chilled fruit smoothie. But it's not just about the flavors – this strain knows how to create a harmonious dance of relaxation and euphoria, giving you that well-rounded experience you've been craving. Whether you're winding down from a long day or simply want to escape to a tropical paradise without leaving your home, Papaya Punch is your ticket to pure bliss.


Hybrid: HHC | THC-P

Looper Live Badder Disposable 2G Features:

| | |
| --- | --- |
|  Capacity: | 2G (2000mg) |
| Battery Capacity: | Integrated Rechargeable |
| Cannabinoid: | HHC + THC-P |
| Concentrate: | Live Resin Badder |
| Heating Element: | Ceramic Coil |
| Firing: | Draw-Activation |
| Battery Indicator: | LED Life Indicator Light |
| Charging: | Type-C Port |

Rechargeable:

The device has a built-in USB-C port for fast charging.

Certificate of Analysis (COA)

Papaya Punch - Looper Live Badder

Warning: Consuming this product can expose you to chemicals including bata-myrcene, which is known to the state of California to cause cancer and D9-Trtrahhydrocannabinol, which is known to the State of California to cause birth defects or other reproductive harm.
We will ship your order within 1-2 business days. You should receive your Delta Cloudz within 3-7 business days after your order is processed, depending on your location. We only ship within the Continental United States.
We offer returns or exchanges within seven days of receiving your order as long as the product is unused. Click here to request a return or exchange.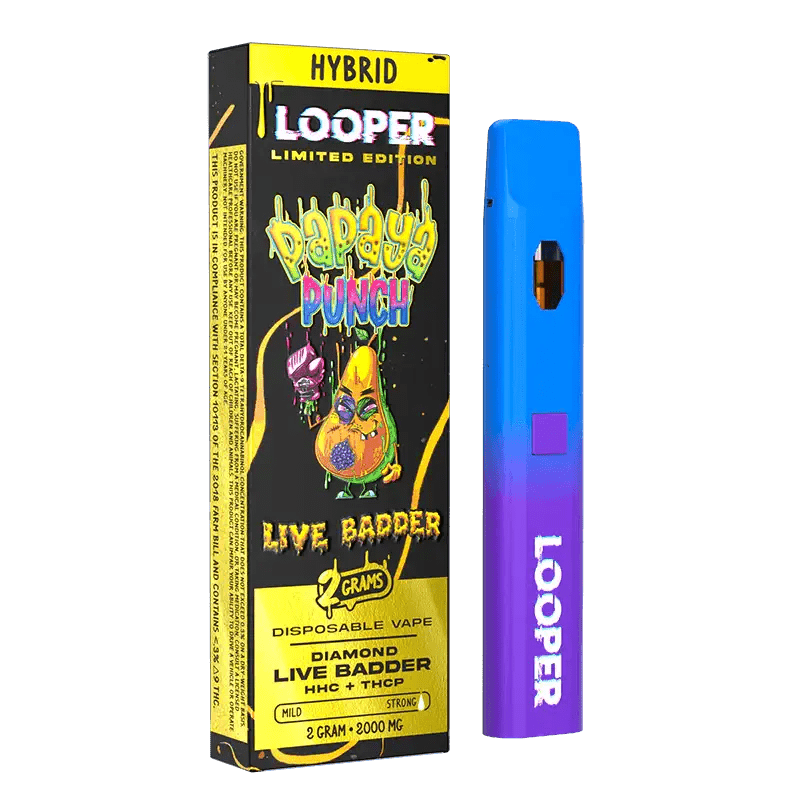 Papaya Punch - Looper Live Badder Disposable