Step into the realm of tranquility with Astro Eight's Infinity Blend, now in the serene Orbital OG flavor, an Indica that promises to deliver a cosmic journey of relaxation and peace. This disposable vape embodies the perfect union of cutting-edge cannabinoid innovation and the profound, earthy notes characteristic of the legendary OG strains.

Orbital OG by Astro Eight offers a gravitational pull towards the soothing realms of Indica effects. The Infinity Blend is more than a disposable vape; it's a passport to the peaceful side of the cosmos, where every inhale is a journey and every exhale is a destination. Discover the tranquil essence of Orbital OG and let Infinity Blend be your guide to the outer reaches of relaxation.

What's included:

1 Astro Eight Infinity Blend Disposable Vape 2.2G Device

| | |
| --- | --- |
| Capacity: | 2.2G (2200mg) |
| Battery: | Integrated rechargeable battery |
| Concentrate: | Live Resin |
| Heating Element: | Ceramic coil |
| Activation: | Draw-activated |
| Construction: | Polycarbonate chassis |
| LED Indicator: | LED battery life indicator light |
| Charging: | USB Type-C port |

 

Certificate of Analysis (COA)

Orbital OG - Astro Eight Infinity Blend Disposable 2.2G COA

Caution: Consuming this product can expose you to chemicals including beta-myrcene, which is known to the State of California to cause cancer and Δ9-Tetrahydrocannabinol, which is known to the State of California to cause birth defects or other reproductive harm.
We will ship your order within 1-2 business days. You should receive your Delta Cloudz within 3-7 business days after your order is processed, depending on your location. We only ship within the Continental United States.
We offer returns or exchanges within seven days of receiving your order as long as the product is unused. Click here to request a return or exchange.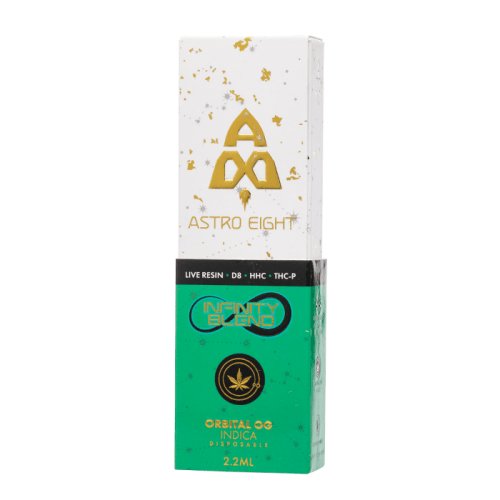 Orbital OG - Astro Eight Infinity Blend Disposable 2.2G