IImagine trying to predict what Miracle Alien Cookies has in store with a name like that! Fondly nicknamed MAC, this hybrid emerges from an intricate blend of Columbian, Alien Cookies, and Starfighter. Prepare for a musky and earthy flavor, touched by delicate floral hints and a zesty burst of citrus, all thanks to the dominant terpene, limonene. And when it comes to the high, think mood enhancement and stress relief.


Hybrid: 11-Hydroxy-THC | THC-H | THC-P

Looper Lifted Series Live Resin Vape Cartridge 2G Features:

| | |
| --- | --- |
|  Capacity: | 2G (2000mg) |
| Cannabinoid: | 11-Hydroxy-THC | THC-H | THC-P |
| Concentrate: | Live Resin |
| Heating Element: | Ceramic CCELL |
| Connection: | Threaded 510 |

 

Certificate of Analysis (COA)

Miracle Alien Cookies - Looper Lifted Series Cart

Warning: These statements have not been evaluated by the Food & Drug Administration. This product is not intended to diagnose, treat, cure or prevent any disease. This product is in compliance with section 10113 of the 2018 farm bill and contains <0.3% Delta 9 THC.
We will ship your order within 1-2 business days. You should receive your Delta Cloudz within 3-7 business days after your order is processed, depending on your location. We only ship within the Continental United States.
We offer returns or exchanges within seven days of receiving your order as long as the product is unused. Click here to request a return or exchange.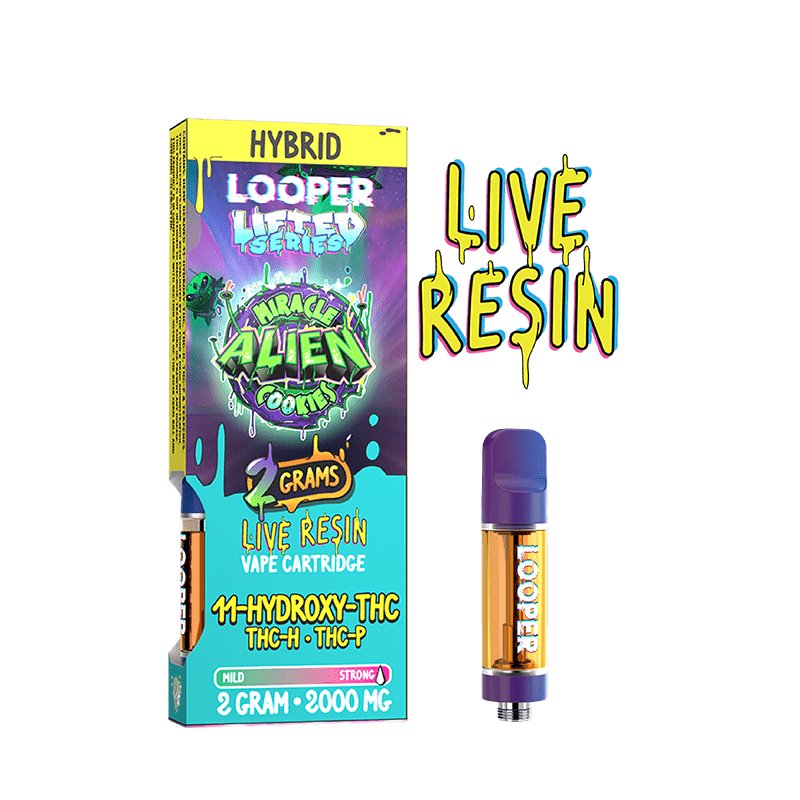 Miracle Alien Cookies - Looper Lifted Series Cart