Embrace the perfect balance with the Lemon Cherry Gelato - Torch Delta-8 Live Resin 2.2G disposable vape. Crafted for aficionados of hemp-derived products, this hybrid vape takes you on a mesmerizing journey, intertwining the zest of lemon with the sweetness of cherries.


Main Features:

Portability at Its Best: Carry your vape experience wherever you go. Its sleek design ensures a comfortable grip and effortless vaping.
High Capacity: Comes prefilled with a generous 2.2G (2200mg) of premium live resin concentrate, guaranteeing lasting pleasure.
Efficient Battery Life: Keep track with the LED battery life indicator. Plus, with the advanced USB-C charging port, recharging is quicker and simpler.
Pure Flavor with Every Puff: Thanks to the ceramic coil, each draw is packed with flavor and potency.
User-Friendly: Draw-activated for immediate satisfaction.

Simple to Use:

Press quickly five times to turn on.
Press twice to preheat the resin.
Press, inhale, and relish the flavor.

Certificate of Analysis (COA)

Lemon Cherry Gelato - Torch Delta-8 Live Resin 2.2G | COA

Crafted for the discerning user who values quality and efficiency, our Torch Vape stands out with its superior build quality. Earning a reputation for its reliability, each unit is meticulously lab-tested, ensuring safety and premium quality. Always in stock and ready to elevate your vaping journey, the Black Cherry Punch - Torch Delta-8 Live Resin is a testament to exceptional craftsmanship and innovation.
We will ship your order within 1-2 business days. You should receive your Delta Cloudz within 3-7 business days after your order is processed, depending on your location. We only ship within the Continental United States.
We offer returns or exchanges within seven days of receiving your order as long as the product is unused. Click here to request a return or exchange.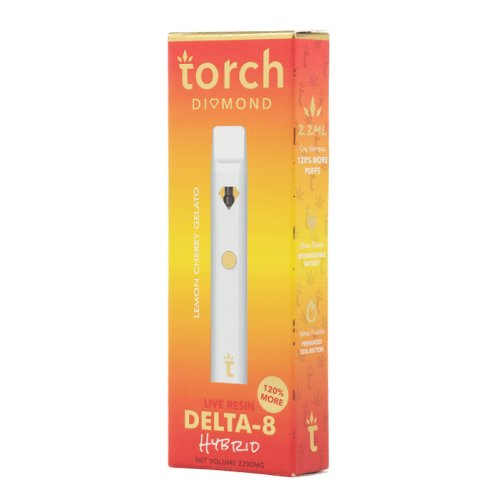 Lemon Cherry Gelato - Torch Delta-8 Live Resin 2.2G