Jet Fuel takes flight from a fusion of renowned Diesel strains, unveiling an aroma reminiscent of high-octane rocket fuel. Beyond scent, it offers invigorating effects to soothe your mind and ignite energy, propelling you toward the moon. As effects subside, a tranquil dreamy state embraces you, leaving you refreshed and revitalized.

Ideal for the productivity-focused seeking a well-rounded high. Buckle up and prepare for take-off with Jet Fuel.

Sativa: THC-A | 11-Hydroxy-THC | THC-P

Looper Lifted Series Live Resin XL 3G Features:

| | |
| --- | --- |
|  Capacity: | 3G (3000mg) |
| Battery Capacity: | Integrated Rechargeable |
| Cannabinoid: | THC-A | 11-Hydroxy-THC | THC-P |
| Concentrate: | Live Resin Badder |
| Heating Element: | Ceramic Coil |
| Firing: | Draw-Activation |
| Battery Indicator: | LED Life Indicator Light |
| Charging: | Type-C Port |

Rechargeable:

The device has a built-in USB-C port for fast charging.

Certificate of Analysis (COA)

Jet Fuel - Looper Lifted Series XL Disposable

Warning: Consuming this product can expose you to chemicals including bata-myrcene, which is known to the state of California to cause cancer and D9-Trtrahhydrocannabinol, which is known to the State of California to cause birth defects or other reproductive harm.
We will ship your order within 1-2 business days. You should receive your Delta Cloudz within 3-7 business days after your order is processed, depending on your location. We only ship within the Continental United States.
We offer returns or exchanges within seven days of receiving your order as long as the product is unused. Click here to request a return or exchange.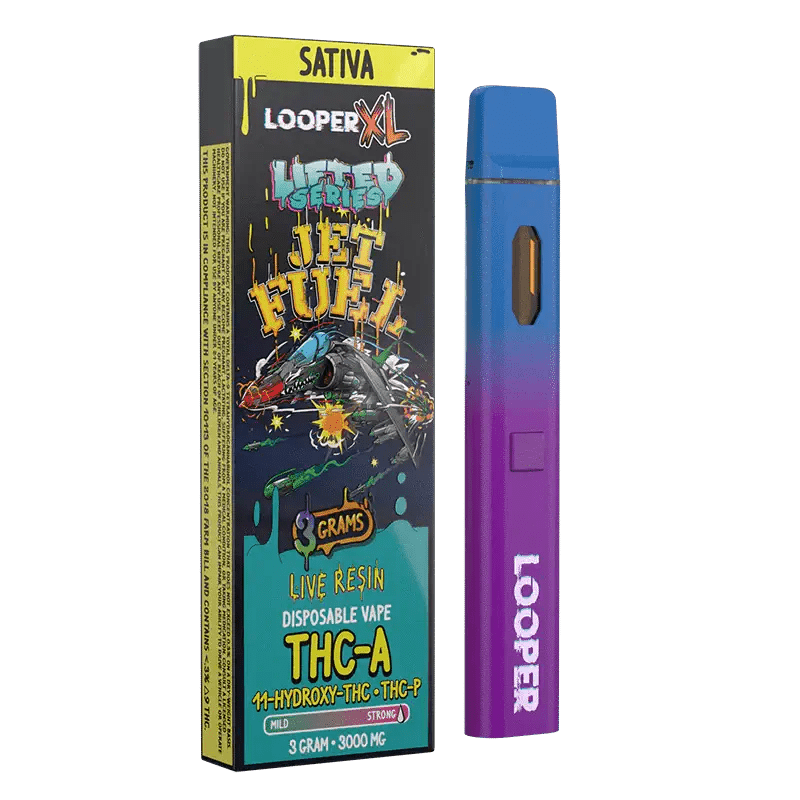 Jet Fuel - Looper Lifted Series XL Disposable