Discover the harmony of Citrus Mango Pop, a disposable vape infused with sativa that brings forth a delightful explosion of tangy citrus and luscious tropical mango notes with each inhalation. Engineered for ease and mobility, this disposable vape enables you to relish the invigorating qualities of Sativa while on the move. Immerse yourself in the revitalizing essence of Citrus Mango Pop and welcome the rejuvenating advantages of sativa, culminating in an impeccable selection for a gratifying and revitalizing vaping journey.

Sativa: D11| D9 | THC-P BLEND

How to use:

Single Button Operation

GETTING STARTED:
• Press 5 times to power on
• Press 2 times to auto preheat
• Press 3 times to adjust power
• Press down button to vape
• Press 5 times to power off
*devices does not have to be powered down every time*

Power Adjustments:

Red Light: 2.8V / 6.3W
• Yellow Light: 3.2V / 8.2W
• Green Light: 3.5V / 9.8W

Rechargeable:

The device has a built-in USB-C port for fast charging.

Certificate of Analysis (COA)

Citrus Mango Pop - Hidden Hills Live Resin Bar 2G

Warning: Consuming this product can expose you to chemicals including bata-myrcene, which is known to the state of California to cause cancer and D9-Trtrahhydrocannabinol, which is known to the State of California to cause birth defects or other reproductive harm.
We will ship your order within 1-2 business days. You should receive your Delta Cloudz within 3-7 business days after your order is processed, depending on your location. We only ship within the Continental United States.
We offer returns or exchanges within seven days of receiving your order as long as the product is unused. Click here to request a return or exchange.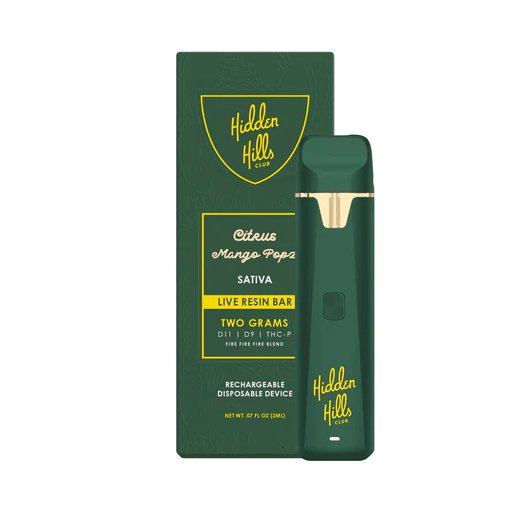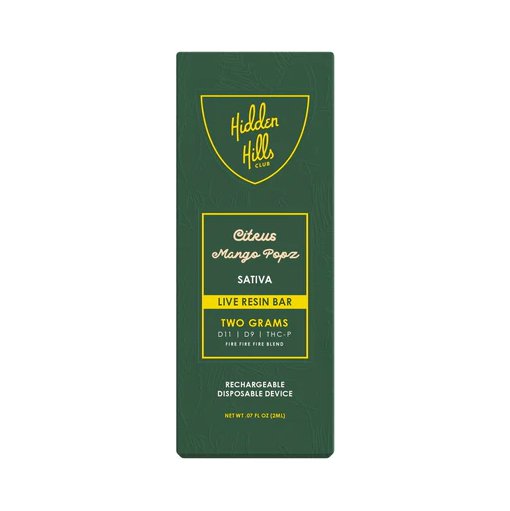 Citrus Mango Pop - Hidden Hills Live Resin Disposable 2G