Dive into the invigorating world of Blue Slurpie with our Sativa Delta-8 Disposable Vape. Each 2-gram device is a ticket to an energetic and uplifting experience, complemented by the tantalizing taste of a classic blue raspberry slushie. Perfect for those who seek a burst of creativity and a zesty kickstart to their day.

Flavor AdBlue Slurpie: A nostalgic trip to your favorite slushie stand, this vibrant blue raspberry flavor is sweet, tangy, and utterly refreshing, capturing the essence of summer fun in every draw.

Sativa:  Delta-8

Whats included: 

1 Packswoods Packspod delta 8 disposable vape device.

Key Features:

 

 

Delta-8 THC Content:

Pre-filled with 2g (2000mg) of premium Delta-8 Live Resin

Battery:

Integrated rechargeable battery for extended use and convenience.

Heating Element:

A high-quality ceramic coil ensures a smooth vaping experience.

Activation:

the press of a button is required.

Battery Indicator:

Equipped with an LED light to display battery life at a glance.

 

Certificate of Analysis (COA)

Packspod by Packswoods Blue Slurpie Delta-8 Disposable Vape COA

Caution: Use of this product may expose you to beta-myrcene, a compound recognized by the State of California to potentially cause cancer, and Δ9-Tetrahydrocannabinol, also known by the State of California to potentially lead to birth defects or reproductive harm.
We will ship your order within 1-2 business days. You should receive your Delta Cloudz within 3-7 business days after your order is processed, depending on your location. We only ship within the Continental United States.
We offer returns or exchanges within seven days of receiving your order as long as the product is unused. Click here to request a return or exchange.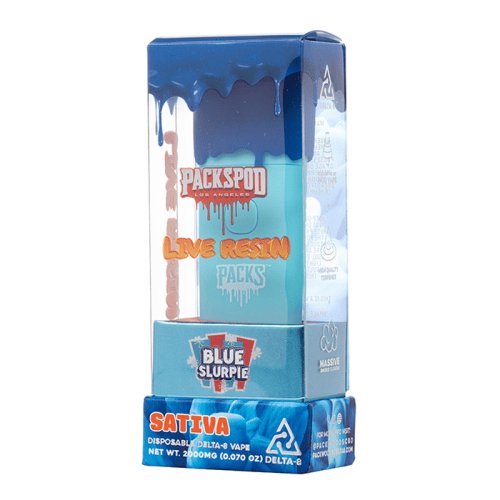 Blue Slurpie - Packspod Delta-8 Live Resin Disposable Vape