Welcome to the sumptuous world of the Black Cherry Gelato Hybrid Delta-8 Disposable Vape. This device encapsulates the essence of indulgence in a 2-gram package that's rich with nuanced flavors and a well-rounded hybrid experience. Savor the sophisticated blend of dark cherry undertones and the smooth, creamy finish of classic gelato in each velvety puff.

Black Cherry Gelato: A decadent combination that entices the ripe sweetness of black cherries, intertwined with the luxurious, silky notes of an Italian gelato. The hybrid nature teases the palate with a delightful dance between invigorating sativa effects and the mellow calmness of India.

Hybrid:  Delta-8

Whats included: 

1 Packswoods Packspod delta 8 disposable vape device.

Key Features:

 

 

Delta-8 THC Content:

Pre-filled with 2g (2000mg) of premium Delta-8 Live Resin

Battery:

Integrated rechargeable battery for extended use and convenience.

Heating Element:

A high-quality ceramic coil ensures a smooth vaping experience.

Activation:

the press of a button is required.

Battery Indicator:

Equipped with an LED light to display battery life at a glance.

 

Certificate of Analysis (COA)

Packspod by Packswoods Black Cherry Gelato Delta-8 Disposable Vape COA

Caution: Use of this product may expose you to beta-myrcene, a compound recognized by the State of California to potentially cause cancer, and Δ9-Tetrahydrocannabinol, also known by the State of California to potentially lead to birth defects or reproductive harm.
We will ship your order within 1-2 business days. You should receive your Delta Cloudz within 3-7 business days after your order is processed, depending on your location. We only ship within the Continental United States.
We offer returns or exchanges within seven days of receiving your order as long as the product is unused. Click here to request a return or exchange.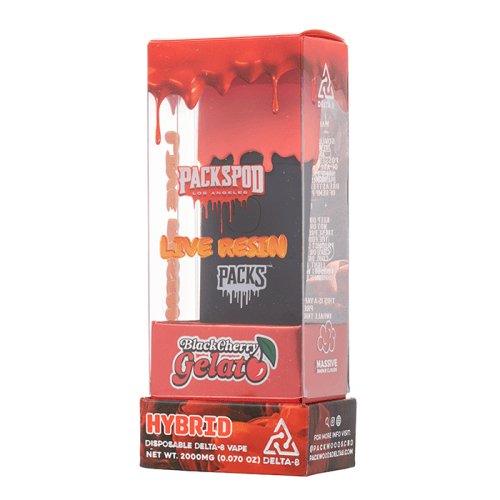 Black Cherry Gelato - Packspod Delta-8 Live Resin Disposable Vape