Introducing the Torch ONYX Liquid Diamonds Apple Jack Disposable Vape's exquisite flavor. It's a harmonious blend of crisp, sweet apple and subtle, warming spices. With every puff, savor the refreshing essence of freshly picked apples complemented by a hint of comforting cinnamon. This flavor experience is both familiar and uniquely delightful, offering a refreshing vaping sensation that's both invigorating and satisfying.


Hybrid: THC-A Blend

What's included:


1 Torch Liquid Diamond Disposable Vape 5G.

Features:

| | |
| --- | --- |
| Capacity | 5G (5000mg) |
| Battery | Integrated Rechargeable |
| Concentrate | Liquid Diamonds |
| Operation | Firing-Button Activation |
| Charging Port | USB Type-C |
| Preheat Function | Yes |

 

Certificate of Analysis (COA)

Apple Jack - Torch Liquid Diamond Disposable Vape 5G COA

Caution: Consuming this product can expose you to chemicals including beta-myrcene, which is known to the State of California to cause cancer and Δ9-Tetrahydrocannabinol, which is known to the State of California to cause birth defects or other reproductive harm.
We will ship your order within 1-2 business days. You should receive your Delta Cloudz within 3-7 business days after your order is processed, depending on your location. We only ship within the Continental United States.
We offer returns or exchanges within seven days of receiving your order as long as the product is unused. Click here to request a return or exchange.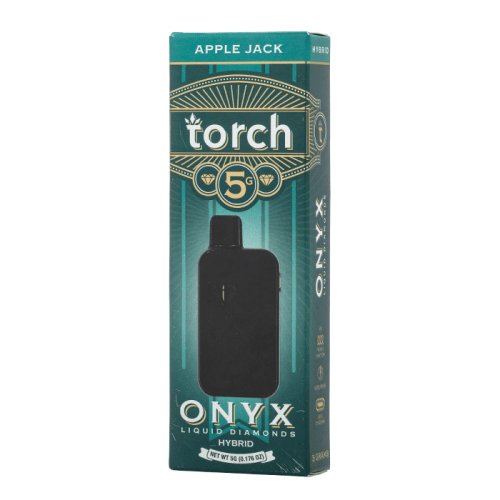 Apple Jack - Torch ONYX Liquid Diamond Disposable Vape 5G